Electromagnetic-actuated Micro Clutches and Brakes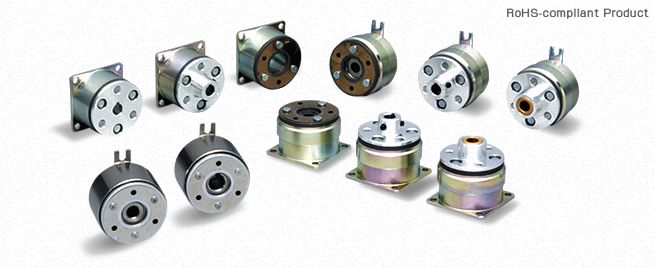 Micro clutches and brakes ideal for compact precision equipment
These micro clutches and brakes are ideal for compact precision equipment where variations in torque and response must be avoided, such as office, communications, and automobile equipment. In addition to the 102 (clutch) and 112 (brake) models, which share the same basic design, we also provide the CYT model (clutch), which has a long history of customization to customer needs.
Application
Financial terminals/Gathering machines/Business machines/Weighing and packing machines/Printing machines/Bookbinding machines/Optical equipment
There are two types of stators: a flange-mounted type that uses space effectively and a bearing-mounted type that is easy to set in place on the shaft.By combining them with armature assemblies that come in three different mounting shapes, a total of six types are available to match your mounting conditions.
CYT Models (Custom micro clutches)
The stators are bearing-mounted types, which can be easily set in place on the shafts.Two types are available for different shaft RPMs: a dry metal type and a ball bearing type. Miki Pulley has experience making a wide array of products customized to customer requirements by assembling three types of armatures with pulleys and gears and then combining these with shafts.
These high-performance, compact micro brakes have the same basic design as micro clutches.Choose the optimal model from among the three types of armature assemblies, which have different mounting shapes.